Interviewing the architect for the pod tomorrow, we'll be previewing 1-18, drop any questions you have on our IG
Alright folks! Time for a late night hole preview! For the 13th hole, you are created with a what you see is what you get par 4. Down the right hand side, there is a bunker that is very not great, but you also have the entire state of Kentucky (14th hole) left which tends to be a very very popular bail out! Everyone should be taking driver off of this one which will leave you with a short iron or wedge in!
One point of advice when approaching this green, make sure you are shooting the correct pin! You're now officially heading for the second half of the green shared by 10. The contours of this green are fairly subtle and with two well struck shots, a birdie opportunity is available after the difficulty of the 12th hole!
I think this is a deceptively difficult green on the approach in that if you err on the side of extra club to carry the bunker, the right side of the green runs off on the back. It's very easy to be chipping on to the green from the back right on what seemed like a decent shot.
Absolutely! This one is deceptively hard for sure! Long also presents the chance of some nice interactions with the group on 10!
Alright folks! Time for another hole preview! The 14th runs parallel to the 13th and is an absolute birdie opportunity! It's a relatively short par 4 that serves as a second pallet cleanser after 12 and prior to 15-18.
While the overall hole is fairly straightforward, this green complex has some major undulations to it! This one definitely has some options for a diabolical pin location or two!
Is it me or are we less than a week from this epic roost collision at what looks to be a truly special place?! Let's goooooo
What's the Sunday golf plan?
There is no formal golf plan for Sunday, do whatever you would like to do.
Having recently made the trip down to Park Mammoth on my own, I can confidently say the FOMO (or ROMO; Reality Of Missing Out) is extremely painful. Unfortunately, the day of the event is also the day of the baby shower for my wife and I, and if I skip that to play golf I might never get to see my son…
That golf course is siiiiiiick though. Hoping to get a group of OATW guis to go down there later in the year!
How forgivable is PM off the tee? Need to mentally prepare
It's a big ballpark. While it's only 6200, it feels much longer and asks you to hit every club in your bag.
That being said, can you miss it by 100-120 yards offline in some spots? Sure, but you're going to have a hell of a time trying to make par
While the Greatest Spectacle in Racing is in a caution, how about we preview (in my opinion) the best hole on the property? After a brief lull on 13 and 14, Park Mammoth is ready for the Grand Stand finish! Starting off an amazing 4 hole stretch, is the 15th hole! 15 is a mediumish length par 4. You have a really wide fairway (like @leftysauce mentioned about most of the course), but the angle you take is massive! The reason for that? That bunker that you've been seeing ever since 12 green is ready to say hello!
If you play down the right hand side of the fairway, you have a much nicer angle into this green. If you play down the left hand or middle of the fairway….well……you better get your number right because you gotta cover a 8-10 foot deep bunker!
Quick shout to the high cotton boys for all the hole previews. I've been half chub for weeks. This is gonna be one to remember. I got one rolled for the last night @leftysauce
If the second trip to a double green and a birdie chance is a lull, I like lulls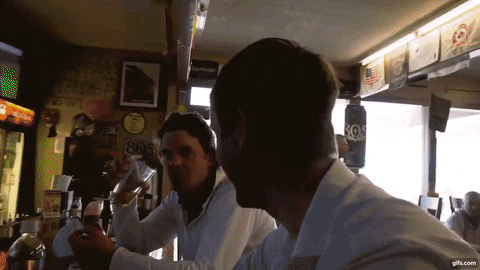 Compared to 12 and then 15-18, I consider it a lull. More of a pallet cleanser, but still not as wild as what's to come
Is it too late to join the golf on Friday?
The best I could do was slip you into the 11:18, but you gain an hour coming from GA