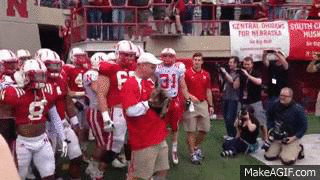 Greatest moment in any schools spring game history
Playing Landmand today…. I couldn't sleep since 4 am😵‍💫 I've seen it in person once but SUPER excited to play it!
I'm horrible about taking pics but honestly pics won't do the place justice… Landmand was great yesterday. We had perfect weather so I'm sure the place will be a beast w wind but it is so fun and playable with so many interesting features. I'm thinking it has to be a top 5 NE course as I'd put it very close to Prairie club level quality. Better than Tatanka, Awarri Dunes, Firethorn in my opinion and I think those all are very very good courses. Get out there and play it next summer if u get the chance!
Did anyone else see that Quarry Oaks email about the qualifying event to get onto KFT being there next week? Kind of blew my mind in terms of state and location selection. I'm not going to make the trip but I wouldn't mind watching those dudes fly it over the last big tree on 18.
Also, all the long grass areas won't be hazard so I imagine provisionals and some very testy 3-minute searches.
Turns out some wild stuff went down at Quarry KFT Q school pre-qualifying. Good quick read.
Final leaderboard for 3-round tourney if you're interested.
Got a 2nd round in yesterday at Landmand. Another beautiful day for us. Super great time there again. The whole course is great but those greens really are something else…
Anyone trying to play OCC?
For those of you that have golfed down by Branson….
Other than Big Cedar Lodge courses…. What is the best course in or around Branson? Branson Hills??? Ledgestone??? Something different? Heading down that way in a couple weeks and hoping to get 1 round in.
Hello friends,
I was recently in Omaha for a concert, of all things, that unfortunately got cancelled and rescheduled not 20 minutes after my wife and I had arrived for our two-day mini vacation.
More unfortunately, that concert was rescheduled for 11/25 - the day after Thanksgiving, and 2 days before my wife's due date.
Most unfortunately, I purchased said tickets third-party and as such am ineligible for a refund.
SO, I have two tickets available to see Paramore at the Orpheum on Friday, 11/25. Price is negotiable as I paid waaaay too much for them (~$500 total after SeatGeek fees and garbage) and although I'd like to recoup some of that, I'm also realistic. If anybody is interested, hit the DMs.
Was back in Lincoln a few weeks ago for the Indiana game and played Highlands for the first time since college with woke golf lenses on. Excellent value and quite underrated among Nebraska public courses (Excluding our darling WH, etc).
The holes were a lot more strategic than I expected and there were some awesome green complexes.
I think I'd rather play there than the oft mentioned Indian Creek.
Also if anyone needs a good laugh, go read the Iron Horse Google Reviews. You get to see their staff actively arguing with customers.
you mean gold like this??

a year ago
I drove an hour and spent $100 to play 18 holes at this course and didn't even get to play all 18. I cannot explain the amount of disrespect we felt and how poor of an experience it was. If i could leave a zero star review i would. There are a lot of things to complain about. We were going to be 5 minutes late for our tee time and we called in well ahead to let them know. They almost didn't let us play until 3 hours later from our original tee time and we said we would start on hole 2 to not interrupt the flow of play (We easily could've gone off 1 there was no one else teeing off). We asked if we could play hole 1 if it was open once we finished the other 17 and they refused, even though we were cut off by another group on hole 9 which backed up play by over an hour. The ranger was extremely rude and management in general made the experience more of a nuisance than entertainment. We were treated as a huge inconvenience from the moment we got out there. We asked for a refund and they refused to give us one. It's an amazing course to play but not worth the money, time of travel, or enjoyable due to how it's run. Ive played many courses in Lincoln, Gretna and Omaha but nothing compared to how much playing at this course ruined my day. Find another course thats 20 minutes away if you want to golf.
9
Response from the owner a year ago
Noah,
Your review doesn't accurately tell the story of why your day didn't go well here at Iron Horse. First, your group didn't arrive in our golf shop until 11:59 which was 10 minutes after your scheduled tee time. Our tee sheet was sold out from 7:00 a.m. until 2:49 p.m. Our staff got your group onto the golf course and into position to not affect the next 3 hours of tee times after you. Why should other golfer's day and round be affected by your group running late? Second, where things really went off the rails and what you conveniently failed to include in your review was when you made the decision to bring your own alcohol onto the golf course. You were kicked off the course for the poor choices you made. There are signs on every door of our clubhouse, on the pro shop counter as well as the lounge counter, plus there are 3 other signs on your way to the first tee regarding outside alcohol.
It is very easy to have a great day at Iron Horse.
**Show up early so your group is on the tee ready to play at your scheduled tee time.
**Show up with the number of players that you made your reservation for.
**Don't bring on your own alcohol.
**Maintain your pace of play. Keep up with the group in front of you.
**Be respectful of the property, staff and other golfers.
**Return your golf carts back in the condition that you received them.
We are a golf course looking to host golfers. We are very fortunate to have a strong following of people who appreciate a course that pays attention to all the items that I mentioned above.
I wonder how your review would read had you showed up on time ready to play and hadn't brought your own alcohol? Somehow your poor choices became an attack on our business. An apology from your group would be more fitting than a negative review.