THE FIRST CHUNK OF THE SCHEDULE IS HERE!!!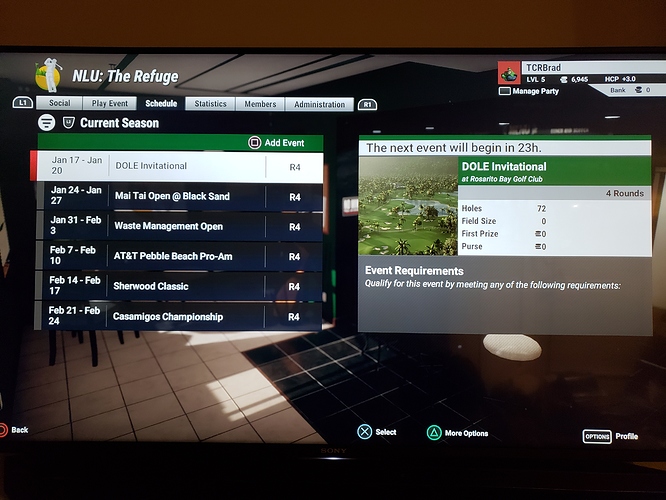 Format:
There are going to be 3 types of tournaments (maybe a "FedEx Cup" championship run later in the year…we'll see what the 19 of us think):
Standard: 500 Cup points available with an entry fee of 100 coins. There is no entry requirement.
These will be played on original course designs, preferably not RCRs (although we can add or remove anything we damn well please)
Championship: 550 Cup points available with an entry fee of 250 coins. Only entry requirement is that you place in the Top 25 in ANY event duing the season (since there are only 19 of us, you basically have to play in one event to qualify). These are going to be events that line up with PGA Tour tournament weekends, so you'll see we have the Waste Management AND AT&T Pro Am on the schedule.
Other PGA Tour stops on the radar are the Players, the Memorial, and the JDC
Major: 600 Cup points availabe with an entry fee of 500 coins Same entry requirement as a "Championship" event. We will play 4 majors (Masters, PGA, US Open, The Open) during the weekends of the real events. Masters will be played at Augusta, and the other 3 are still negotiating deals with host courses for the 2019 season. (If you have a vote for a RCR to host one of these events, let me know!)
(and finally…TBD)
Championship Cup Events: 2000 Cup points available with an entry fee of 500 coins Entry requirements are TBD, as we MIGHT be this like the FedEx with a points cut off…or then again we all can play them for the fun of it since this is strictly for bragging rights.
You can bet that TBC and Sweetens will be hosting 2 of the 4 cup events.
---
If you design a course that you would like to add to the schedule for the 2019 season, let me know!
---
What do y'all think? Are there some courses you would like to see make the rota? How about some tournament sponsor ideas? Is this too much golf, or do you want to see two tournaments per week?