In the spirit of this week's "Your Icarito" and "How good are you at Golf?" threads, I would offer a non-exhaustive list of disappointing, dispiriting on-course fuck-ups that we all face. It takes a lot of time, practice, and money to get to a skill level where you can consistently put yourself in good position to attack a green. It takes even more to execute once you're in that position, to not shit all over your good fortune.
More than a bad round, these shots will stick with you. Follow you. Haunt you. Get in your head every time you've got a green light for the green, or have a perfect lie in the fairway, or have a makeable putt for a red number. The universal experience of telling a playing partner after a good shot, "don't worry, I can make bogey from there."
The Club Up
On the first par five of the day, you're feeling good, swinging easy, and not pressing. You place a good drive in the fairway, somewhere where you probably shouldn't go for it, but that's okay because you're going to put your second shot in perfect position to attack this pin. You get up to your ball with a seven-iron in your hand, a solid 270 yards from the hole.
Thwump. You've topped it, and you're lucky if the ball makes it 30 yards. Now, you've gone from sitting two, a hundred out, to sitting two, walking back to the cart to club up. Now, your chance at birdie rests with a perfectly struck 3-wood from distance. Good luck.
The Steam Shovel
You absolutely caught it on the screws. The 7th Hole is a mid-length par-4, and your playing partners left their balls on the ridge, but you managed to catch the speed slope and are sitting pretty with a lob wedge in your hand. You've got so much adrenaline, and beer, and God knows what else coursing through your veins, and you're about to spin this ball back at the cup like a yo-yo. As you stand at address, you think about how you won't even need to bring your putter to the green.
Trying to spin it can have its downsides. You get a little steep, then a little steeper, and then next thing you know you're looking at a hole in the ground where the ball used to be. A Chinese family waves at you from the other side, then points ten yards down the fairway where your ball ended up. Your playing partner asks if you want a different club, but you just sheepishly ask him to bring your putter to the green as you approach the Sisyphean task of making better contact with your lob wedge.
The Comeback
Finally! A birdie putt. It hasn't been the best ball-striking day thus far, but you finally put yourself in good position, dropping a nine-iron right behind the pin. You give it a read from both sides, see a little break but don't want to give the hole away. Right before you start your backswing, you remember your father's words: "Son, never leave a birdie putt short."
Oh no. The ball takes off like it stole something, way too hard to catch the break. You can swear you can see the ball wave at the cup on its way by. At least I'll have an uphill putt. The ball keeps rolling, keeps rolling, every revolution another degree of difficulty for your comeback. Finally, the putt comes to a stop, further away than you when you started. You hope they won't say it, but finally, one of your playing partners raises his voice. "You're still away."
The Rodin
Not this time, you tell that sucker pin. The last two times you played this course, they put the pin up there on the front right, a few feet over the water. You remember trying to muscle a 9-iron last time, still came up short. Today, you tell yourself, I'm going to play smart. You grab the 8-iron and get ready to swing easy and swing with confidence. You've made the right decision.
You don't even watch the ball land in the water. Why didn't I take a bigger backswing? Stupid, stupid, stupid, stupid… You've overthought it again, could have had a stock 9-iron and chose to decelerate on an 8 instead. You let your playing partners tee off while debating whether to go back and grab the 9 or head to the drop circle. Stupid, stupid, stupid…
The Regina George
Whew, that was a close one. Somehow, that ball hung up in the rough, a few feet from the water. It's within the red stakes, but you know the rules: don't ground your club, get yourself out of trouble, and play for par from the fairway. Taking the smart play, you pat yourself on the back. Right before you get in your stance, you yell out to the rest of your foursome, "I'd rather be lucky than good!"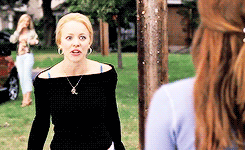 Well, it turns out that you're neither lucky nor good. That smart shot you through you were hitting? Rough grabbed the hozel, turned the club over in your hands. That hazard you thought you'd avoided? Ohhhh…you found it.