Interested in books involving golf course architecture and design. If anybody has any recommendations, that would be great!
Scotland's Gift by CB MacDonald
A few classic starters…
Modern:
Shackelford, Grounds for Golf
Doak, The Anatomy of a Golf Course
Golden Age:
MacKenzie, The Spirit of St. Andrews
Hunter, The Links
Coffee Table:
World Atlas of Golf
Shackelford's The Captain and Cypress Point Club.
Tom Simpson's Architectural Side of Golf.
Robert Hunter's the Links.
after you read on or two of the previously mentioned…
check out Tom Doak's Little Red Book is an awesome aimless reader. its just excerpts of his posts and comments on GolfClubAtlas, pieced together. It a really easy read
Missing Links and Lost Links are two books by Daniel Wexler that I go back to quite a bit. If you like reading about courses that are now gone, they're great.
I love The Golf Courses of the British Isles by Bernard Darwin published in 1910. The book is beautifully written and not only gives a sense of design but also a sense of the soul and spirit of these fabulous classic courses. It's a time machine with a dust jacket.
Dream Golf by Stephen Goodwin was a fantastic easy read about the making of Bandon Dunes, interspersed with some great insights about course design and what made the place so special. Really enjoyed the 2-3 chapter biography on Tom Doak, lots of info I hadn't heard before about him.
George Thomas' Golf Architecture in America should be on here too.
The Thomas book is by all accounts a classic, but, to my knowledge, a legitimate edition cannot currently be had for less than $400! Yikes.
Sandwell is a cool Colt course as well👍
What an amazing book-- just grabbed it again from the "library" for a reread.
+1 on The Spirit of St. Andrews.
The good Dr. helped me "get it"
Just got Doak's Anatomy of a Golf Course for $13 on Amazon prime. Really good, it reinforces some basic strategy of various golf holes and has nice illustrations to back up his points.
Shackelford will get you started with compilations…
Then…
Tom Doak's Anatomy of a Golf Course
Ross's Golf Has Never Failed Me
Robert Hunters The Links
HS Colts Essays on Golf Course Architecture
A MacKenzies Spirit of St Andrews
Thomas's Golf Architecture in America
That'll get you started… it's a rabbit warren…
Authors like Paul Daley, Fred Hawtree and Geoffrey Cornish are worth looking at… Micheal Hurdzan is technical and encyclopaedic if nothing else.
These and a few others are references often referred too…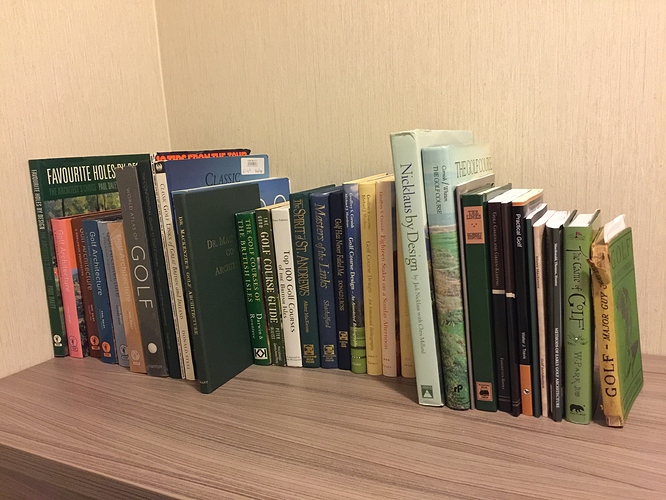 Looks like this thread died before Keith Cutten's book, The Evolution of Golf Course Design, came out. Goes back to the origin of golf courses and then each chapter is a summary of golf course design by decade starting with the 1830's and ending with the 2010's. Also references all of the great architects. Very easy book to research.
I'm reading Doak's Anatomy of a Golf Course right now. Really good so far.
Another book that I haven't seen in this thread was Shackelford's Lines of Charm. Great book if you reading in 10 minute chunks. Kind of a compilation of some of the great architects quotes.