Seeing if y'all had any favorites by 30A around Seaside to Rosemary Beach outside of Camp Creek/Sharks Tooth?
Subscribing to this thread early. My in-laws love vacationing in watercolor, but I have yet to find a good golf course. Very interested to see what the refugees think. My $0.02, the view from Bud & Alley's bar might be too good.
This x10. Don't under sell the taco stand by B&A either.
Haven't played golf on 30A but I recall fondly listening to the Trap Draw US Open preview while running around Watercolor this summer!
Watercolor, as the NLU boys would say, is probably too good.
I have enjoyed Santa Rosa Golf Club (a little pricey but always in good condition. OK layout).
Also check out the Raven GC in Sandestin (RTJ jr. design). Pretty fun track.
\firsttimelongtime
Santa Rosa is pricey and is usually pretty slow. I've played a few times at the Baytowne course. Hoping someone can give some more options because I haven't found any.
Like the others, I'm here for suggestions as well. Love the area but still looking for good golf in the area.
I've vacationed in the area for most of my life, so I do feel somewhat qualified to comment. In my opinion, you won't find a better value than Windswept Dunes in Freeport, lots of width and angles. I've yet to find a better combination of enjoyment and value than Windswept. Don't let the drive deter you. It's not much more of a drive from 30A than pretty much any other option other than Camp Creek or Shark's Tooth.
The Sandestin courses are fine. If I had to rank them in order of which I enjoy playing, I would go The Raven, Baytowne, and then the Links. If you can get on Burnt Pine, it's a great track, but it's not a ton of fun if the wind is up.
In Destin proper, I'd recommend Indian Bayou as the best value. After Bayou, you have your choice of Emerald Bay, Regatta Bay, and Kelly Plantation. Honestly, if you told me all three of these courses were the same holes in a different order on a different pieces of property, I'd believe you. I have a difficult time remembering which course is which, but they are all decent options. Given the fact that they're so similar, I'd say whichever one offers the best rate or tee time to fit your schedule would be the best option.
In the other direction toward PCB, Hombre is a decent track as long as it hasn't rained more than a centimeter. The course doesn't exactly hold water well, but in fair conditions, it's a good track at a reasonable price. Lagoon Legends in PCB has some pretty holes, mixed with some gimmicky ones, but I enjoy my rounds typically. Also, bring plenty of ammo.
Hope this is helpful.
The DL3 Origins course at Watersound is a fun walk around. Multiple tee boxes on each hole and even those giant soccer ball holes if you want to take a non golfing child with you.
disclaimer this is a fun golf outing, not a serious round of golf.
Love Origins. Big fan of the paspalum grass and it's usually pretty empty so they aren't concerned about singles going off or things like that. I'll play 6 with my wife then if she wants to go do something else I'll make as many loops as I can before dark. I'm usually in the area on weekend trips so this works a lot better than an all day outing to one of the other courses.
+1 for Windswept Dunes. It's been a few years, but I really enjoyed playing there. Interesting course, good conditioning, great value. And a nice detour in style from most of the other courses in the area.
Going to be near Seaside next week - just curious if there are any other recommendations for golfing in the area. Hoping to get 1-3 rounds in. Looks like Windswept Dunes is the best and Origins is the best option for when friends, girlfriend, etc. who aren't big golfers want to tag along and drink in the cart.
Any other suggestions other than what people have already mentioned?
Depending on where you're staying you might get access to Camp Creek. I'll be there next weekend as well and our rental is through 360 Blue, which includes "executive access".
It's currently $175/round for guests
Will have to check it out. We have a house in Grayton Beach so I doubt we have access but will check. If so, is that course worth playing?
Bud and Alleys must have been designed by Fazio. The bar is 180 in the wrong direction!
I haven't played it in 15 years, but I remember it being pretty awesome.
Jack's course in Panama city area is pretty nice. Kelly's plantation and emerald bay both solid in destin.
Made it out to Windswept Dunes twice last week. Thanks to those that recommended it. The course was a blast. Full of #width with some really fun greens. Had my best nine hole score ever out there too which didn't hurt (+2 on the back, preceded by +11 on the front

). I've been to Destin quite a bit but had never made it to the 30A area - 'twas great. Look forward to going back soon.
Not sure why I wanted to golf when the beach looks like this. Guess I'll work on my bunker game.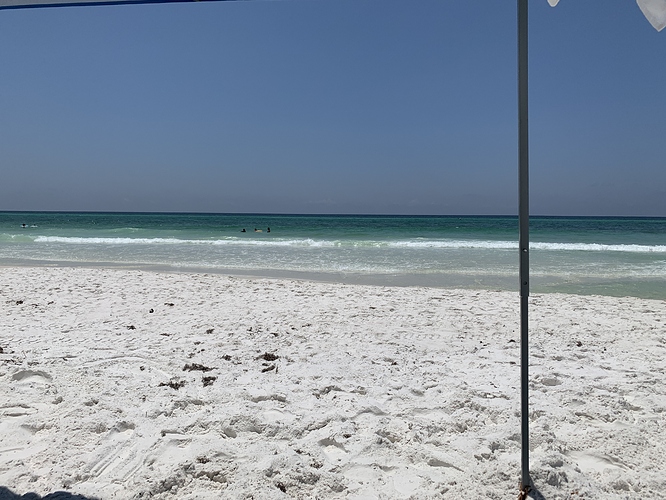 The refuge is wherever you make it… just like the buck club
Been playing Windswept Dunes on visits over last five years or so, and just finished back-to-back rounds today & yesterday. Course is in great condition, and a bunch of fun. Realized I've never played a course that seems consistently narrow from the tee, but when you drive-up, you see you're comfortably in the fairway, and the little positive jolt that comes from that.
Greens were in great shape, and they were doing some work on them too, using a machine I've never seen before that aerates, but with really tiny holes, not the wine-cork-width core samples they pull at my muni.
I've played Kelly Plantation twice, and the 2nd time was by accident – place was so unmemorable, I thought I hadn't played it before. Dig the low-keyness of Windswept, the ease in making a tee-time and the unfussiness of the place, especially when paired with such excellent conditions.